Commercial Window Tinting Saves the Day from the hot Columbia SC afternoons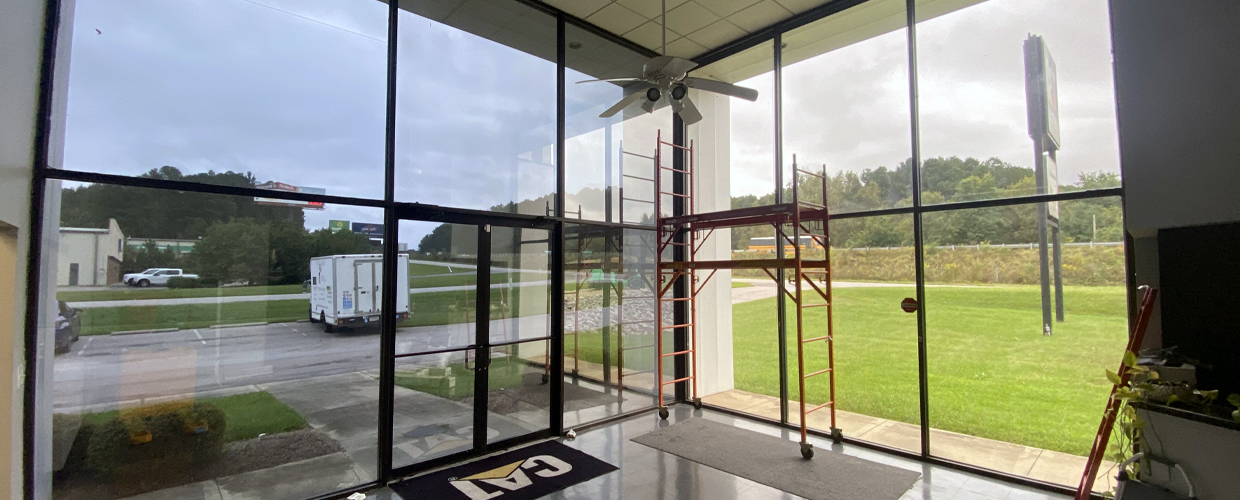 Do you ever hear grumblings about the heat from customers or team members...while they're inside? Do you worry about your store's cooling bill every month or if you should wear sun tan lotion when you stand too close to the windows? There's a way to fix all these problems that will save you money and make your business more comfortable for everyone: commercial window tinting from Sun Shades & Graphics in Columbia, Irmo, Lexington, and The Midlands. Our local, family-owned, Select Pro Dealer team uses only the highest quality materials, so you can rest assured that our commercial window tinting will give you the comfort and peace of mind you need to get back to work. Without the sunscreen!

Office Window Tinting Works for You
Hey there, South Carolinians. Y'all know that when summer gets here, it makes everybody pay for it in spades.
Here's the thing... When you get inside your shop or office, you should be able to cool off, unwind, and just plain forget about all that scorching heat.
You can finally stop worrying about:
Crazy high energy bills all summer long
Window glare making work impossible
Wondering if your customers and employees have privacy
Commercial window tinting is a really fast, super easy, and totally affordable way to solve problems like these that so many business owners face here in the Carolinas.
With business window tinting, you can finally stop worrying about your overhead when it comes to energy. Plus, your clients and team members will get real privacy at work. There's nothing better than true peace of mind. Which is exactly what you and your company deserve.
With commercial window frosting or one way film, your workspace can get back to, well, work! As professional commercial window film installers in Columbia and the surrounding areas, we make sure it's right for your business and that it looks great, too.
Privacy for Your Team and Your Clients with Commercial Window Tinting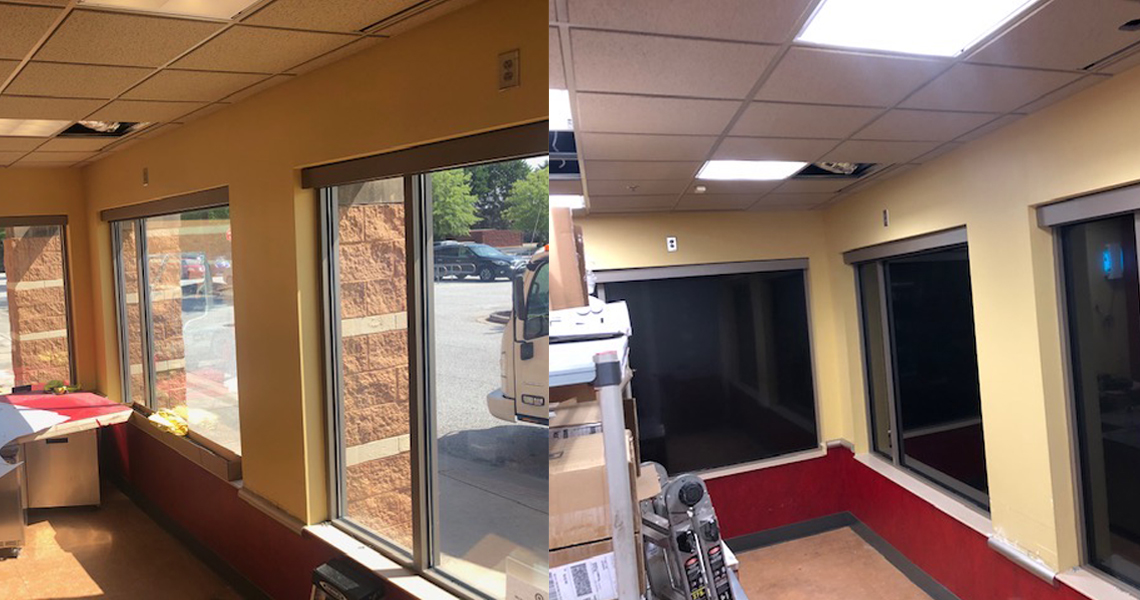 Have you ever had to pull down the blinds at work because you were concerned about privacy? Do you want to make sure your customers here in The Midlands feel extra comfortable in your business? You can probably think of a few spots right now that you wish you could use more than you actually do.
There are simply times when extra precautions are necessary to ensure that all sensitive information is kept safe and secure.
Do you ever wonder:
Whether your building gives you enough privacy
If you should have some kind of covering on your windows
What might make your customers feel better about sensitive info
If you've ever had these or similar thoughts, you should look into decorative privacy window film. Then you can get back to work without worrying about private matters being visible to the whole world.
No matter what kind of business you have, everyone benefits from commercial window tinting, frosting, or privacy film.
Take Back the Construction Paper. Business Window Tinting Is Here to Save the Day.
If you've tried to solve your privacy problems with DIY answers, you may already know this… But doing it yourself doesn't always cost less and it usually ends up making a mess. Not only does that rhyme, it's also very true!
Look at it this way: if you buy some construction paper or film online, you'll have to spend the time figuring out how to do it, applying the materials yourself, and then hoping and praying that it works.
If you hire a Select Pro Dealer, you can stop:
Worrying about a lack of privacy for client conversations
Crossing your fingers that the construction doesn't fall down during store hours
Looking over your shoulder to make sure your meetings are actually private
Here's the good news! We have an incredibly easy solution that lasts for years and provides the extra sort of privacy and protection you, your team, and your customers deserve each and every day on the job. And to top it all off, it comes with a 15 year commercial warranty, so you can set your mind at ease.
Here at Sun Shades & Graphics, we bring the showroom to you. We work with every client in Columbia, Irmo, Lexington, and The Midlands, to find the best permanent solution, one that's customized to your specific needs and made to last a lifetime.
Get in touch with us today to get started.
Commercial Window Tinting Frequently Asked Questions (FAQ)